Competing on stage takes more than just a great physique, it takes great presentation and posing just the right way to always show your best. I was blessed to have the best posing coach ever!!!

Thank you Skie Molinar for helping bring out the best of me n the stage with my posing! You inspired me to always be confident! You have a beautiful way of making people feel so comfortable and calm around you. You are beautiful inside and out! Now on to the next one!

Thanks Skie!!
Elizabeth Nino

Elizabeth won her PRO card in The 2015 Alamo Showdown
Skie has always been inspiration to me in all aspects of my life. I was always the type of person that wanted to look like a fitness model, bodybuilder or figure competitor but never wanted to work hard for it. I guess the main problem was that I didn't know how and I hated the thought of having to give up chocolate cake! At 30 years old, after looking at myself in the mirror, I was disgusted at what I was seeing. Then Skie came into my life and I thank God she did.
​
Skie taught me how to attain the goals I wanted to reach so desperately. Because of Skie, I now have the tools and knowledge to keep myself fit, healthy, and feeling good about what I now see the the mirror.
​
My before picture was taken when I was 30 years old and now that I am 47, I feel and look better than I did at thirty, and even better than I did at 18!. Knowledge is something you own for a lifetime, and with the right person guiding you, such as Skie Trevino, how could you not reach your fitness goals.

Thank you Skie!
Lois Powell
Lois's before and after photos
Fibromyalgia
​
Fibromyalgia is a disease that is very similar to chronic fatigue syndrome. Symptoms include bodily aches and pains accompanied by fatigue, depression, and insomnia. Doctors don't know what causes it; all they know is that stress is a major factor. These individuals have low serotonin levels, therefore the best relief is exercise which helps increase serotonin levels.
​
About a year ago a young lady by the name of Suzanne Puckett was referred to me by another client of mine for some personal training. She was somewhat afraid to exercise due to the pain she would experience every time she would begin an exercise program. During her consultation, I explained to her that we would began with Pilates mat beginners exercises and slowly graduate her to Pilates equipment exercises with more resistance along with using the Pilates stretching apparatus.
​
Suzanne has done so well that she has now graduated to using the weight training equipment and she is much more confident and doesn't have as many episodes of pain. In our conversations in her training sessions she has reported that the last couple of times her doctor has not found anymore pain trigger points and she is currently in remission. Since her sessions have begun a year ago she has lost 3 inches off her waist and has lost body fat. Her attitude is more cheerful and she is just radiant these days. Just knowing you've helped make a difference in someone's life, especially when they have lived with a lot of pain, makes my job so rewarding.

Thank you Suzanne Puckett, for trusting me with your health.
Dear Skie,
​
"I don't think I had really realized my potential until I worked with Skie. Physically and mentally she assisted in raising me to another level of thinking and positivity that helped me to reach my goal of winning a pro card. Her honesty, wisdom, and knowledge propelled me into a higher state of believing that all things are possible. Thank you and God Bless You!"

Marti Boyle
Initially, I came to Skie seeking increased flexibility and stamina which was lacking in my competitive dance sport. The improvement was considerable in both after just 6 weeks of Pilates apparatus which includes the Reformer, Wall Unit, Wunda & Fit Chair. After a six week period of being in bed with my feet elevated and then a few weeks in a wheelchair, I was given crutches. At that time, I went on my feet to Skie's facility again to work on getting myself back in condition to dance professional again. After hearing of Skie having to relocate from Corpus Christi, Texas to San Antonio, Texas I bought my own Pilates Reformer combo Wall Unit for home use & had Skie work on a long term conditioning plan for a long term healthier lifestyle to prevent injury.
Pilates is wonderful for post-rehab & conditioning.

Best to you,

Dr. Janet L.Vaughan
A success story: Lorri Hall

On January 28, 2002 a beautiful young lady named Lorri came to meet me for a consultation. She stated that she had never worked with a trainer, therefore this was all new to her. She stood at 5 ft. 1 inch weighing 215 lbs. She was ready to make a complete makeover of her lifestyle to become healthier. A year and a half later she lost 55 lbs. which brought her down to 160 lbs.
Being a Beauty Salon Owner, Lorri's clients were able to witness the monthly changes in her. She looks like a totally different person to the point that some of her former clients don't even recognize her. She has been able to keep the weight off along with losing an extra 4 lbs. Lorri was able to loose weight slowly with a nutritious healthy eating plan combined with a cardiovascular, weight training, and Pilates program. She has found that she did not have to starve herself to loose weight, instead learning to eat the right foods at the right times to manipulate her metabolism.
​
The benefits of loosing weight slowly with proper diet and exercise allowed her body to maintain good muscle tone without a flabby appearance. She came to me in a cocoon and became a beautiful butterfly that continues to flourish. Thank you Lorri Hall for trusting me with your health and giving me the opportunity to be part of reaching your goals. Story to be continued next year as Lorri reaches further goals.
In 2007, I competed in the masters figure division and placed 4th. I was very disappointed in my performance and knew that I was not at my best. My husband was very ill at that time and his recovery was slow so I decided that I would not compete in 2008. I spoke with Skie about my plans to compete in the spring of 2009 and she offered her services as my posing coach and advisor. She was/is awesome! She instructed me on proper posing to bring out my best physique on stage and It worked!
I competed in the 50+ masters figure division on 04/25/09 where I placed first in my division. Two weeks later, I competed in the INBF Southwestern Natural Championships where I won the 40+ and the 50+ figure division. I also won the overall and got my pro card in masters figure at the age of 55!!!! Imagine that!!! Thank you Skie for your help, your dedication and your professionalism. If you are serious about competing and WINNING then you need Skie's expertise!
Believe me you will not regret it - Skie will be working with me for my 2010 competition season.
​
Celia Mireles-Cadena WNBF PRO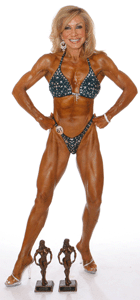 Skie,

Thank you so very much for sharing your knowledge and creativeness in helping me prepare for my first bodybuilding show. With your help in nutrition & your patience while teaching me the art of posing which was a challenge for both of us, but we did it. Not only did you help me with posing, but you were able to choreograph a great routine which helped me win my first bodybuilding show. You motivated me & gave me the confidence to look & feel like a winner.

I'm forever grateful for all of your help. God's love is clearly shining through the kindness of good people like you.

Thank You,
Jason Hall
Training for a competition, was Gods way of saving my life. This past year for me has been stressful to say the least. Even though I felt ok, or so I thought. I had managed to put on an extra 10 lbs within a few months.

As a personal trainer, and nutrition coach, this is not acceptable. I guess it goes to show you I am human, and life's struggles do and can affect everyone.

God made it possible for my life to cross paths with Skie Molinar, a professional trainer, professional Pilates instructor. She took me through the process of 12 weeks of nutritional guidance & coaching to go from 127 lbs with body fat of 27% losing a total of 17 lbs, which brought me down to 110 lbs with body fat of 14-13%.

I have learned an incredible amount of knowledge & regained my mental focus. I am honored to have been sponsored by "Skies The Limit". I look forward to applying this precious knowledge with my own clients.
In reflection, I have found that no one is invincible, we all stumble and fall.
​
In light of that as we help one another, we can get back up shake the dust off our feet, attain new goals, and be prepared to help others along the way.

In Christ,
Karen Martinez
In preparing for my first Figure competition, I can honestly say that I had such a wonderful experience with Skie as my posing and nutrition coach. When it came to our posing sessions, even though I was doing something out of my comfort zone, I felt at ease with her. I think one of the main reasons I felt so comfortable is because we both shared the same common goal and that was to help me look and feel my best for the stage. Skie wanted me to stay true to my personality on stage without compromising who I was.
​
As for having Skie as my nutrition coach, the service she provides is absolutely amazing! I felt like my health was a top concern of Skie's and she treated my body like it was her own. As far as a strict meal plan goes, I was actually surprised when I would look forward to eating some of the meals that wee created for me. I can't help but say one of my best decisions to date was when I decided to reach out and get Skie's help. The service that Skie provides is exceptional and your will not be disappointed!!!
​
Darlene Garcia
My name is Geri Wisehart, and this is my first year doing Fitness Competitions. My first show was Shredder Classics in Austin, TX where I entered the Bikini Category; Masters and Open. I was very happy to be able to place 5th in the Masters. and Open. I wanted to try doing Figure at Battle on the Bay 2014. Skie was able to help me with my Bikini poses for the Shredder and remembered how great she was, so I contacted her again to help me with my Figure poses.

Skie and I met several time to work on the figure poses. She was able to help me spread my lats (that I didn't realize were there). We worked on my walk on and off stage, my front, side and back poses as well. But what I learned most with working with Skie was how to display myself with confidence and how to do it keeping it classy and sexy while looking strong? Skie is very patient and detail oriented. She gives constructive criticism but never harsh.. she's an amazing coach!

I was able to bring home the 1st place medal in Figure Masters and a 2nd place medal in Figure Open. I could have not have done so well without Skie's guidance!
​
Thank you Skie!
​
Geri Wisehart
Give Skie a call today to schedule an appointment 210-452-7543 and ask about our Gift Certificates!